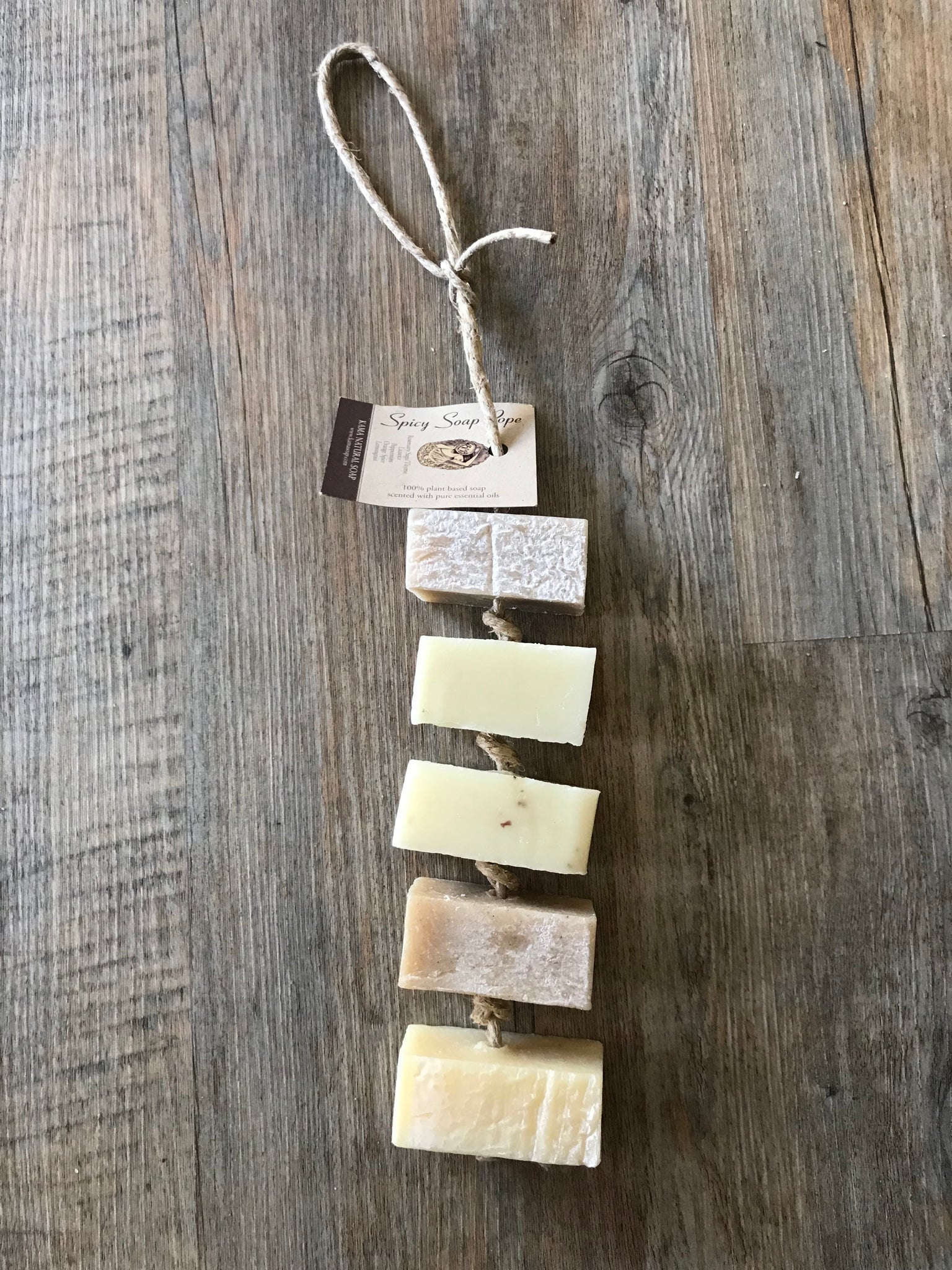 Kama {SOAP-ON-A-ROPE}
*February sell out! if you were looking to purchase some soap on a rope. Please contact us as we will be ordering more for March!
Kama Natural Soap is created and made in Salt Spring Island, B.C.
"Committed since 1997 to providing luxurious, hand made, plant based soap and body care products using pure essential oils for scent and herbs and grains for colour and texture"
Five bars knotted on jute twin. Each bar is approx. 40g
100% plant based soap scented with only pure essential oils
All soaps are super fatted with rich, skin enhancing oils and/or organically grown herbs and grains adding colour, texture and emollient value.
SPICY SOAP ROPE
1. Rosemary, Sage, Thyme and Neem: Antiseptic, antibacterial, anti-inflammatory neem oil from India is combined with the warming, invigorating, purifying rosemary, sage and thyme essential oils
Ingredients: saponified olive and coconut oils, organic neem oil, organic sage, pure rosemary, sage and thyme essential oils
2. Licorice with Vitamin E: Ingredients: saponified olive and coconut oils, black walnut hull powder and pure aniseed oil
3. Peppermint: Revitalizing, refreshing and cooling peppermint is combined with althea or marshmallow root for its skin softening properties
Ingredients: saponified olive and coconut, althea root powder, organic peppermint leaf and pure peppermint essential oil
4. Orange Spice: Ingredients: saponified olive and coconut oils, organic hemp seed oil, cinnamon powder, pure cinnamon, nutmeg, clove and sweet orange oils
5. Lemongrass Cornmeal: Cornmeal is a superb exfoliator increasing the cleansing properties of this invigorating, uplifting scented soap

Ingredients: saponified olive and coconut oils, organic cornmeal and pure lemongrass essential oil