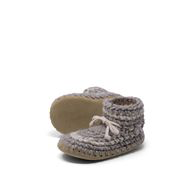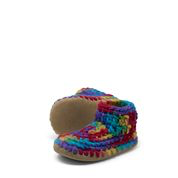 Padraig {YOUTH}
Padraig Cottage Slippers are designed and made in North Vancouver, BC.
The first pair of Slippers were created in the winter of 1977. 
The Youth Slippers have the same features and benefits as the adult version but sized to suit a growing foot. They are dyed and crocheted by hand and lined with high quality sheepskin lining. Padraig slippers durable leather soles mean long lasting comfort and exceptional wearability.

{fabric content}

100% Wool (fine scored and spun New Zealand wool)
Machine washable {follow care instructions on tag}
{design details}
Pull on slipper
Striped combo comes with ties
{size chart}

Youth 1 - approx. age: 5 years - 8" in length
Youth 3 - approx. age: 7 years - 8.5" in length